JGT1000 series V machine
Introduction 
This machine mainly use is the POY yarn ( polyester silk) is through stretching and false twisting deformation, processed into low elastic or high elastic deformation of the false twisting silk ( DTY stretch yarn), the equipment can be option to add the network components, so it can undertake network yarn processing.
1、TECHNICAL PARAMETERS
spindles

240spindles

264spindles

288spindles

sections

10

11

12

spindles pitch

110mm

Highest mechanical speed

1000m/min

raw material and fibre number

55-333dtex(50- 300Denier)/polyester 55-333dtex(50- 300Denier)

section size

1440mm

false twist way

folding disc 8type false twister, friction false twisting

the highest speed of false twist device

18000 r/min

false twist direction

S,Z

The first heat box (distortion)

biphenyl gas phase heating/2500mm

The second heat box ( figuration)

biphenyl gas phase heating/1460mm

figuration heat box temperature range

160-250℃

figuration heat box temperature range

160-250℃(low temperature biphenyl as 100-180℃)

cooling mode and length

cooling plate cooling/1100mm

friction roller diameter

Φ100mm

roller diameter

Φ75mm

oiling roller diameter

Φ75mm

largest original yarn size

Φ435×250mm

maximum take-up size

Φ250×250mm

standard take-up capacity weight

5kg

take-up paper pipe specifications

Φ69×Φ57×290mm

installed power category

drive

93.5.5 kw

107.5kw

110.5kw

up heat box

68 kw

74.8kw

81.6kw

below heat box

24 kw

26.4kw

28.8kw

assist power

6kw

total power

191.5kw

214.7kw

226.9kw

dimensions (with fixed original wire frame)

19000×7020×5360 mm

20440×7020×5360 mm

21880×7020×5360 mm
2、Equipment performance and characteristics of main components
The new structure design and control mode, the single roller , single motor drive directly, canceled synchronous belt, reduce the transmission chain length, improve the transmission efficiency, on both sides of the machinecan be relatively independent operation, on a left process can be adjusted respectively set, in the same equipment, processing can be two different original silk and yarn, and improve the equipment utilization, realize the multi-usage.
The machine is equipped with two ways of heat box, the first heat box (deformation heat box ) and the second hot box (figuration heat box) is using biphenyl gas phase heating, closed structure, it increase the internal heat preservation methods, use PLC control heating and temperature control, temperature control precision is ±10C, effectively ensure the yarn quality, it is more advantageous to dyeing and keeping more uniformity.
PLC control system, the machine through man and machine communication, to realizes process adjustment. The touch screen and operation made the process set simply and easily, so it is easy to understand, using the network, Interface can according to the needs of the users, people can do more machine networking management.
Use the high quality of electrical components, to ensure that equipment in use process operation more reliable, more stable.
The fold type disc VIII false twist device, import ceramic plate and blade export plate installation, configuration optional scope of the1-4-1-1-4-1.
W1/W2/W3 roller adopts the roller type structure ,aluminum alloy roller frame, uniform pressure, the W2 with yarn roller.
High speed winding shaping system, forming good, easy to unwinding, the biggest capacity can be processing to 6kg

3、DIMENSION DRAWING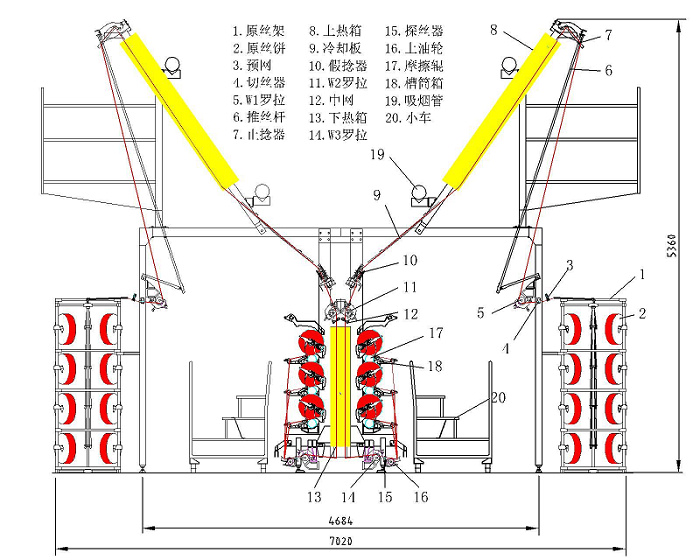 4、INSTALL THE ANCHOR FIGURE
Hot Products